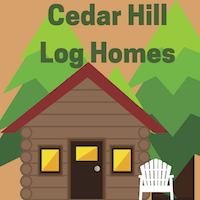 Floor Plan Choices
There are three options for developing floor plans.
The three options for floor plans through Cedar Hill Log homes are to choose from the Honest Abe's collection of original plans, choose from Customer Created Plans created by Honest Abe's customers or bring your own original design.
Of course, there's a fourth option, which is to choose a plan you like and have us modify it for your specific needs and desires. Many people choose one of our classic plans and make it their own through modifications. Click the Searchable Floor Plans button below to see the entire collection.
We want you to be assured that working in conjunction with Cedar Hill Log Homes, the Honest Abe Design Team can turn original ideas that are just concepts and dreams into plans that a customer can really think about and review. It sounds cliche, but we really have had people bring us their ideas sketched out on a napkin or scrap paper, and they've become plans for beautiful homes.   
We're fortunate to be able to offer creations by past customers, like the cabin pictured below. Click the Custom Homes button below to review some of the most beautiful floor plans for log homes and timber frame homes that started as a customer's dream. The Honest Abe design team is pretty proud of them, because they were able to capture exactly what the homeowner had imagined. The plans in this collection were graciously shared by the homeowners who conceived of them. They represent a lifetime of passion and many years of planning for some. They're being shared for inspiration and to give others confidence that a dream can become a forever home.
Develop Floor Plans Early



Most people who want a log or timber frame home have been envisioning how they want their house to look from the outside for a long time before they actually have a plan for building it. They also have a sense of what they want and need on the inside, but often they are not quite sure where to begin.
As we help our clients on their path to becoming homeowners, we're often asked how to get the house plans started for their new log or timber frame home. Cedar Hill Log Homes is here to help with that.
It is prudent to start the plan design process as early as possible once the decision is made to build a wood home. Plans are free for customers who buy a home package from Cedar Hill Log Homes.
Having plans enable you to make modifications, and plans will be necessary when approaching potential contractors and lenders. It's much easier to change your dream on paper than it is after you've started the building process.
Click here to Watch FREE Honest Abe Log Homes webinars hosted with the editors of Log Home Living and Timber Home Living. 
Not only does Cedar Hill Log Homes offer dozens of Honest Abe Legacy Collection plans that can be modified to meet the specific needs of the homeowner, two other house plan development options are available – provide your own or have us create original plans from your concept.