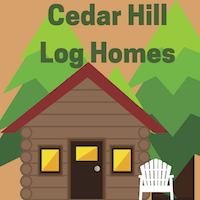 Log Home Package Contents
What's in your log home package?
Log Package Contents
Review the basic log package contents for a home purchased from Cedar Hill Log Homes and designed and milled by Honest Abe. Our log home or log cabin packages have been custom made and shipped directly from Honest Abe's family-owned plant since 1979.
Subfloor System
 Foundation – By Owner
 Treated Sill with Termite Shield & Sill Seal
 Joists, 2″x10″ @ 16″O/C
 Double Header
 Subfloor Girder
 Subfloor Decking, ¾" Advantech
Subfloor Adhesive
Log Wall System
 Log Walls, includes all fastener, caulking, gaskets, etc.
 Window & Door Rough Opening Frames
Exterior Finish
Borate Wood Preservative
Second Floor System
Support Post, 8"x8"
Ceiling Beam Girder, 8"x12"
Ceiling Beams, 4"x8"
Header
Tongue & Groove Decking, 2″x6″
Porch and Deck System
Porch/Deck Pier – by owner
Porch/Deck Framing, 2"x8" treated
Decking – 5/4", treated
Porch Post/Plate/Angle Braces, 6″x6″
Porch Rafter, 4″x6″
Porch Rafter Decking, 2″x6″ T&G
Porch Rails, 2"x4", and Spindles, 2"x2"
Window and Door Units
Insulated, Double Hung, Tilt-Sash Wood Windows
Insulated, Wood Grained, Fiberglass Doors
Exterior Cedar Trim, 1"x5"
Interior Pine Trim, 1"x5"
Screens
Fixed Glass Units
Interior System
Partition Framing
Stair Stringers, 2″x12″
Stair Treads, 2″x10″
Pine Baseboard/Ceiling/Interior Door Trim, 1″x5
Interior Doors
Optional Items
(not included in standard package)
Tongue for interior walls, 1″x6″
Clad Windows
Engineered I-Joist or Floor Truss
Heavy-Timber Stair Package
Lap Siding
Board & Batten Siding
Heavy Timber
Heavy Timber Rafters, 4″x8″
Heavy Timber Ridgepole, 3″x12″
Collar Ties, 4″x8″
Tongue & Groove Decking 2″x6″
Insulation, R40
Sheathing, 7/16 OSB
Synthetic Felt
Cedar Fascia
Trim
Gable End Framing, 2″x4″
Gable "Dormer" End Sheathing, 7/16 OSB
House Wrap
Exterior Log Siding
Soffit Vents
Interior Gable Siding
Conv. Rafter Roof
Conventional Rafters, 2″x10″
Conventional Ridgepole, 2″x12″
Exposed Timber Collar Ties, 4″x8″
Tongue & Groove Ceiling, 1″x6″
Sheathing, 7/16″ OSB
Synthetic Felt
Cedar Fascia
Trim
Gable End "Dromer" Framing, 2″x4″
Gable End Sheathing, 7/16″ OSB
House Wrap
Exterior Log Siding
Soffit & Framing
Soffit/Vents
Interior Gable Siding
Conventional Truss
Roof Trusses
Tongue & Groove Ceiling, 1″x6″
Soffit Framing
Soffit/Vents
Sheathing, 7/16″ OSB
Synthetic Felt
Cedar Fascia
Trim
Gable End Framing, 2″x4″
Gable End Sheathing, 7/16″ OSB
Exterior Log Siding
Interior Gable Siding
House Wrap